We have a roll on/roll off skip hire service that operates throughout Essex, and we can dispose of all types of waste both domestic, commercial and industrial.
20, 35 & 40 yard skips available
Established more than 30 years
Professional & friendly advice
Some History: We've Been Around A While
James Waste skip hire in the early days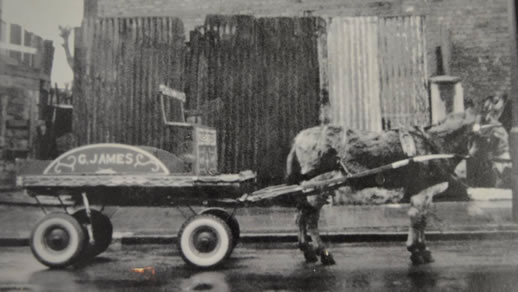 We've been in business for many years now. Back in the old days, things were a bit different and a lot simpler than they are now.
As you can see from this picture, our grandad didn't need to worry about the cost of diesel, MoTs and road tax – A large bag of carrots pretty much took care of all of that!
We've been around for well over 30 years now as a fully fledged company, but our real history goes back much, much further.
We've asked grandad if he has any more great pictures like this one that we can post on our website so he's just popped off to have a look in the old 'memorabilia' biscuit tin he keeps under the bed. We're hoping to include a bit more about the history of James Waste soon, along with more photos if we can find any.
One thing that's certain, we wouldn't have lasted this long in business if we hadn't been providing the Sussex community with a robust, reliable and trustworthy service on an ongoing basis.
A brief update…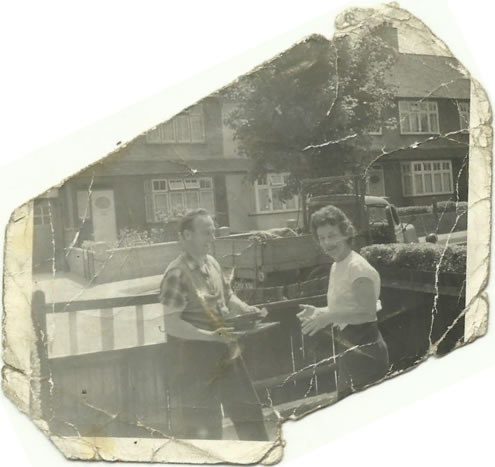 Grandad George
We've had another rummage around and found this picture. It's a bit frayed around the edges, but at least you can get a feel for what it was like in our business back in the mid to late 1950s (when this picture was taken).
The vehicle you can see in the picture is a Ford van which was converted into a truck using an old horse carriage for the truck's back. Grandad George paid a whopping £8 for the truck and this photo was taken in Claremont Avenue, New Malden in Surrey.
The story behind it
George typically used to drive around the area collecting scrap metal and textiles and this picture is of him and a regular customer that he visited every other Saturday. Back in those days, he didn't own a camera so this lovely lady had a snap of them both taken, and when he turned up again two weeks later, she gave him the picture as a thank you for the reliable service he always provided.