Skip Hire
Business, Domestic and Commercial Skip Hire
We're a long established family run waste management company covering Essex. With many years of experience under our belt, we offer a low cost, professional and friendly skip hire service to all of our clients. We have a wide range of sizes from small to large skips and you can simply select your preferred size below.
*All Skips are for Dry, Non-Hazardous Waste
Skip Size Guide
4 Cubic Yard Skip
Up to 40 Bin Bags
If you are having your home refitted, our 4 cubic yard (3.06 cubic metres) skips are ideal. Double the size of the 2 cubic yard skips, they are capable of holding up to 40 bin bags of waste. They are often hired for medium size garden projects and general home clear outs.
Get a Quote
6 Cubic Yard Skip
Up to 60 Bin Bags
Our 6 cubic yard (4.6 cubic metres) skips are ideal for heavy and bulky waste items. They are also suitable for small building projects. They can hold up to 60 bin bags of waste.
Get a Quote
8 Cubic Yard Skip
Up to 80 Bin Bags
Those undertaking large building projects will benefit from our 8 cubic yard (6 cubic metres) skips. They are also great for really heavy waste such as soil. You will be able to fit roughly 80 bin bags of waste into these skips.
Get a Quote
10 Cubic Yard Skip
Up to 100 Bin Bags
Our 10 yard skip (8.85 cubic metres) is suitable for bulkier items and general waste. Although not suitable for soil and rubble, these are ideal for general waste and household items.
Get a Quote
12 Cubic Yard Skip
Up to 120 Bin Bags
These are in our larger range of skips (9.2 cubic metres) and are ideal for bulky items, furniture and large household clear-outs. However, they are unsuitable for soil waste. They can hold roughly 120 bin bags of waste.
Get a Quote
14 Cubic Yard Skip
Up to 140 Bin Bags
Our 14 yard skips (10 cubic metres) can hold around 140 bin liners and are ideal for those bigger, bulkier items.
Get a Quote
16 Cubic Yard Skip
Up to 160 Bin Bags
These 16 yard skips (12.23 cubic metres) are the largest in our range of standard skips. They can hold a whopping 160 bin liners or a large amount of bulky waste such a sofas, wardrobes etc.
Get a Quote
20 Cubic Yard Skip
Up to 200 Bin Bags
Our 20 cubic yard (15.3 cubic metres) containers are perfect for heavier waste such as rubble, soil and mixed construction materials. Most councils do not allow you to place these containers on public highways. It can typically hold up to 7 full pick-up truck loads. Comes with low sides for additional convenience. You can easily use a small digger to load clay, soil and dirt. Holds the equivalent of 200 bin liners.
Get a Quote
35 Cubic Yard Skip
Up to 350 Bin Bags
Our 35 cubic yard (26.75 cubic metres) containers are ideal for large demolition work, new construction and home addition jobs. They can typically hold up to 11 full pick-up truck loads or the equivalent of 350 bin liners.
Get a Quote
40 Cubic Yard Skip
Up to 400 Bin Bags
Our 40 cubic yard (30.58 cubic metres) containers are ideal for bulky waste items from house and business clearance jobs – They are also suitable for builders' light waste. Industrial large scale producers also tend to hire these containers to separate their waste. They hold the equivalent of approximately 400 household bin liners.
Get a Quote
Skip FAQ
Earliest time skip can be delivered after 7.30 dependant upon location we cannot give dedicated times but only am and pm
We offer skip hire for 3-4 weeks.
If you are storing the hired skip in a private area, there is no need for a permit. However, if you plan to keep the skip on a public highway, a skip permit will be required.
To find out which recyclable and non-recyclable items you may dispose of in the skip, please read our terms of hire.
Hazardous waste is defined under environmental legislation and covers waste that contains substances or properties that are harmful to human health or the environment. Anything defined as hazardous waste cannot be put in a skip for general waste. If you're unsure about the classification of your waste, please contact us and if your waste is hazardous we can arrange specific disposal.
Yes. Our lorries can lift skips over a wall/fence/bush of up to 1m high so that skips can be placed in gardens.
You should never fill your skip above the height of its sides. If you exceed this height then you risk the skip lorry driver refusing to collect your skip or asking you to empty out all the extra stuff before he removes it. This is because overloaded skips are dangerous to transport since stuff could fall out on route and cause damage or injury to others.
Driveways made with soft tarmac or block paving have the potential to be damaged by skips. This can easily be avoided by placing scaffolding planks or big pieces of wood to rest the skip. Bear in mind also that skip lorries are heavy and when they take away your filled skip, they are even heavier. Skip lorries use stabilisers when they load the skip. These metal legs exert significant pressure on the ground and can dent soft tarmac or break paving stones. If you are concerned about damage to your drive, always speak to the skip provider first for their advice on how to protect it.
Skip Hire Essex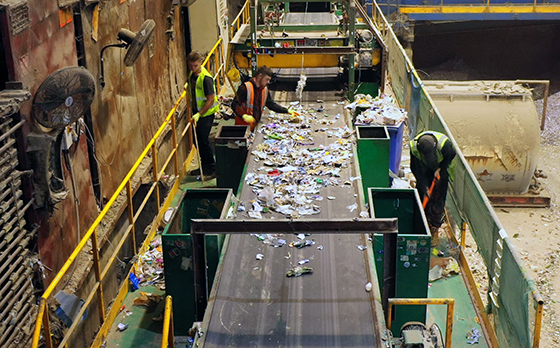 How Can We Do It So Cheap?
Because we recycle 93% of our waste on site, we're able to keep our prices lower than virtually all of our competitors. We're not a skip hire agency and we don't sub-contract our services out to any other companies. We offer a full range of skip sizes; from 2 yard mini skips, right up to our largest 40 yard roll on/ off (RORO) containers which can hold up to 10 tonnes of waste. We've therefore got any size to suit your needs. You can also take advantage of our wait and load service in Essex, where we do all of the hard work so you don't have to.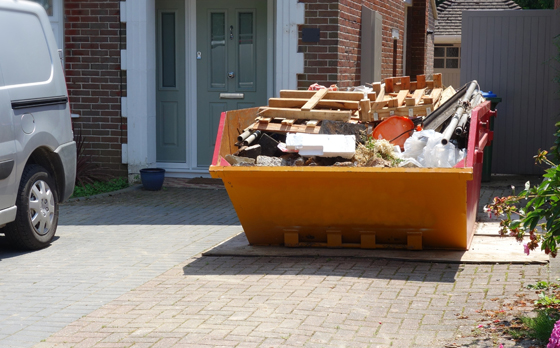 Skip Hire Prices
We cater for all size skips and cover most areas in Essex. We work hard to keep our skip hire prices as competitive as possible, so feel free to give us a call and we'll find you the best deal possible. Our customers use James Waste Management because we are reliable and cheap. We have a wide range of skips, and ordering couldn't be easier. Simple select the size skip that suits your project best and we'll ensure we get all prices and details to you as quickly as possible.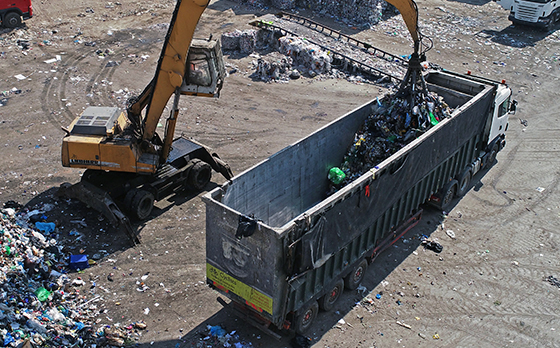 Local Essex Partnerships
Ever since we've been in business in Essex, we've forged a great relationship with local authorities such as the Environment Agency and Essex County Council. James Waste Management is a registered waste carrier and as such, we're required by law to dispose of all waste in the correct manner.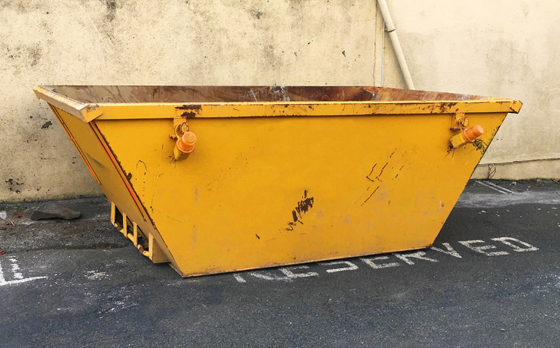 Small Skip Hire Essex
If you're looking for a small skip them James Waste have an excellent range of small skips available for hire throughout Essex. Take a look below to find the best sized skip for your project.
If time is of the essence, don't worry! We can typically organise skip deliveries, collections and exchanges in Essex within just 3 hours of booking. The booking process is quick and simple. Either call us for a free quote on 01702 783 074 or drop us an email. Once we receive your email, a member of our team will contact you to confirm your request. They'll also talk through your requirements to confirm the initial booking.