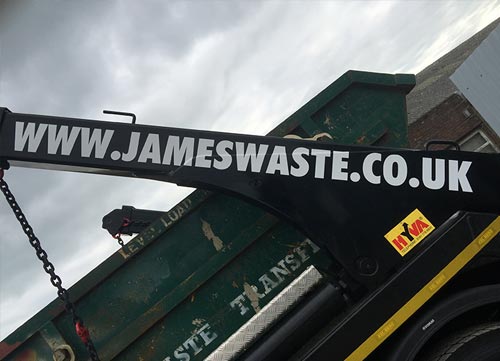 As a trustworthy skip hire Leigh On Sea based firm, James Waste Management LLP has been supplying Leigh On Sea and surrounding areas with a cheap and reliable skip hire and waste management service for several years. We are one of the biggest skip hire companies in Leigh on Sea and have an enormous range of skips, ranging between small 2 yard skips and large 12 yards skip. We also have roll on / roll off containers ranging from 20 yards  to 40 yards. We offer a speedy service and have a large fleet of vehicles that can deliver your skip to you as and when you need it.
At James Waste Skip Hire, we also offer a transfer station and hold a licensed waste carriers' permit. We possess all WAMITAB certificates that are essential for any responsible waste management company.
We supply skips in a wide range of sizes for both the commercial and domestic sector in Leigh on Sea..
OUR WASTE MANAGEMENT PLANT, NEAR LEIGH ON SEA
Our plant is located near Leigh On Sea, and is one of the biggest recycling plants in the south east. We have  an accredited waste transfer station which is integrated to ensure that all accumulated waste is sorted and appropriately recycled or disposed of. Our dedication to recycling ensures that any waste finishing up in a land fill site is at an absolute minimum, and consequently, we keep the price of hiring a skip down as cheap as possible.
THE NUMBER 1 SKIP HIRE SERVICE FOR LEIGH ON SEA
If you live of work in or near Leigh On Sea, and are in need of a cheap, reliable skip hire company, then James Waste Skip Hire are the best company you can find.
We have a skip for any purpose or project and can help you choose which is the best skip for your requirements.
At James Waste Management we're committed to delivering the absolute best skip hire and waste management solution we can. Our service is perfect for both the commercial and domestic sector in Leigh On Sea, and our prices are hugely competitive. We have a great understanding of our industry, and are able to provide the absolute best service for our customers needs.
Our skips can take all kinds of household and domestic waste including: bricks, rubble, general waste, garden waste, packaging waste and even many types of hazardous waste.
For our commercial clients, we understand that time is money. That is why our waste management service is always dependable; ensuring that the job is carried out to budget and on schedule.
We try to make the process of hiring a skip as easy as possible, especially for our domestic clients who might not be used to the process. That's why we guarantee to provide the best skip hire company which is efficient, reliable and cheap.
RAPID, DEPENDABLE SKIP HIRE IN LEIGH ON SEA
We're proud of the service we provide in Leigh on Sea and are capable of providing a fast and trustworthy service for both big and small projects. We can provide a wait and load service, which can be combined with same day collection if the skip is booked before 10 am.
Don't hesitate to contact us if you have any questions. Or feel free to check out at our skip sizes, which will provide more information on the type of containers we can offer.